The Bornfyne team used the Impact First Summit as an opportunity to present the Bornfyne mobile application to participants and drive discussions on digital health for reproductive, maternal & new-born child health services and its implementation in Cameroon and Zambia.
Miriam Nkangu, founder of the Bornfyne app and Mwenya Kasonde, researcher with Bornfyne, during their session, discussed digital health innovations that have been tested to support access to reproductive maternal and new-born child health. They explained the special role of government policy in sustainability, the importance of civil society advocacy in obtaining Universal Health Coverage and the SDGs. In addition, the session discussed infrastructure, interoperability, accessibility and data science, and their role in developing evidence-based policy and a supportive social protection framework.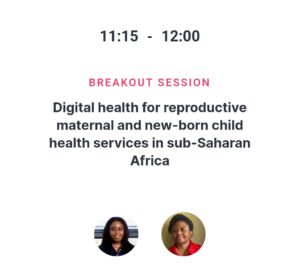 The Summit brought together participants from 16 unique countries to share and discuss cutting-edge technologies and approaches to address the world's most pressing development challenges. Through a series of plenary and breakout sessions and panels, we heard from a mix of technology experts, public health practitioners and implementing partners working on the ground applying these technologies to drive impact and improve livelihoods.